Elizabeth Bass & Dan Shao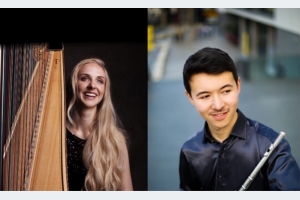 Elizabeth Bass & Dan Shao
Elizabeth Bass – Harp
Dan Shao – Flute

Programme to include:

Tōru Takemitsu (1930-96): Toward the Sea III
Samantha Fernando (b.1984): Kinesphere (flute solo)
Henriette Renié (1875-1956): Pièce Symphonique en Trois Episodes (harp solo)
C.P.E Bach - Sonata in G minor, BWV 1020 for Flute and Harpsichord Obligato
1. Allegro
2. Adagio
3. Allegro
Clara Schumann (1819-96): Romance No. 1 from Three Romances, Op. 22
Samuel Coleridge-Taylor (1875-1912): Deep River
Andy Scott (b.1966): Sonata for Flute and Harp I;II;III
Presenting a programme full of passion, storytelling and dreamlike soundscapes, Elizabeth Bass (harp) and Dan Shao (flute) will explore the full range of expressive capabilities of their instruments through immense timbral variation and rhythmic flair. Elizabeth Bass was the first British musician to reach the final of the USA Harp Competition, where she was awarded the Silver Medal. She has also won other prestigious awards and performed solo concerts in the Royal Albert Hall, Birmingham Town Hall and St John's Smith Square. Dan Shao's flute playing has been described as "shapely and silvery" (Classical Source, 2017) and possessing "virtuosity, charm, and charisma in abundance" (The Telegraph, 2014).
These artists are sponsored by the Philip and Dorothy Green Young Artists Award Scheme
Promoter: EDMC - Venue: All Saints Church, Evesham
Booking Dates
Thursday 19 May, 2022 19:30 £5.00 (Under 18s) £20.00 (Full Price)
Booking Info: Venue - All Saints Church, Evesham, WR11 4RW
Further Information
Book Now