Mithras Trio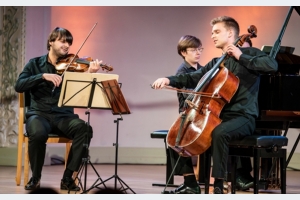 Mithras Trio
Ionel Manciu – Vioin
Leo Popplewell – Cello
Dominic Degavino - Piano
Programme still to be confirmed but will include works by Beethoven and Korngold.
Winners of the 10th Trondheim International Chamber Music Competition, 67th Royal Over-Seas League Music Competition, the 2019 Cavatina Intercollegiate Chamber Music Competition 2019, and the 2018 St. James Chamber Music Competition, the Mithras Trio came together in 2017 at the Guildhall School of Music and Drama.

Sponsored by the Countess of Munster Musical Trust.

The Trust was founded in 1958 by the Countess of Munster (Hilary Wilson), who devoted her life to music and who was herself a pianist of considerable talent.
Lady Munster's generous endowment, from which the Trust's annual income is derived, currently provides awards totalling up to £250,000 to young musicians to support postgraduate studies. The Trust also provides a small number of instrument purchase loans to former beneficiaries and runs a Recital Scheme.
Promoter: EDMC - Venue: All Saints Church, Evesham
Booking Dates
Thursday 26 January, 2023 19:30 £5.00 (Under 18) £20.00 (Full Price)
Booking Info: Venue - All Saints Church, Evesham, WR11 4RW
Further Information
Book Now