The Pleyel Ensemble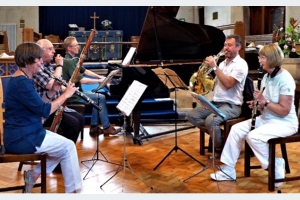 The Pleyel Ensemble
Programme to include:
Mozart Quintet in Eb K. 452
Poulenc Trio for oboe, bassoon & piano FP. 43
Beethoven Quintet in Eb op. 16
The chamber ensemble was formed in 2011 by husband and wife Harvey Davies and Heather Bills. The Pleyel Ensemble has appeared at Music Societies and Festivals all over the UK, broadcast live on BBC Radio 3, and in a successful series of concerts in Didsbury. Our wonderful musicians are current and former principal players with major British orchestras, are all highly sought-after chamber musicians, and teach at conservatoires across the UK.
The Pleyel Ensemble is supported by the Pleyel Trust.
Promoter: EDMC - Venue: All Saints Church, Evesham
Booking Dates
Sunday 02 October, 2022 14:45 £5.00 (Under 18) £20.00 (Full Price)
Booking Info: Venue - All Saints Church, Evesham, WR11 4RW
Further Information
Book Now