Trio Goya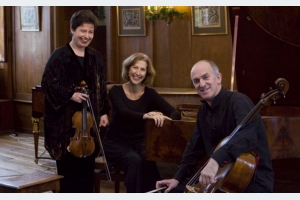 Trio Goya
TRIO GOYA
Kati Debretzeni Violin
Sebastian Comberti Cello
Maggie Cole Forte Piano
Programme:
Mozart Piano Trio in B flat, K 254
CPE Bach Sonata for violin and fortepiano
Paxton Sonata for cello and fortepiano
Beethoven Violin Sonata in A minor

Trio Goya play Classical chamber music on period instruments. Formed out of a collective fascination with the new colours and narratives that these instruments suggest, the group concentrates its repertoire on the trios by Haydn, Mozart and Beethoven. A fortepiano by Paul McNulty after Anton Walter, Vienna 1795, is the centrepiece of this music.
Released initially as a download, their recording of Haydn trios,"The Heart of Invention" was released on Chandos Records in June 2010. A preview of this can be heard on the "taste of Haydn" page or by linking to www.bowers-wilkins.co.uk
Trio Goya are pleased to announce that their recording of the three Beethoven opus 1 trios (recorded at Snape Maltings in November 2017) will be released on Chandos Records in July 2018.
Trio Goya's London appearances include a sell-out Wigmore concert and a rapturously received Kings Place concert in which they were joined by viola player James Boyd in piano quartets by Mozart and Beethoven.
Promoter: EDMC - Venue: Evesham Arts Centre, Victoria Avenue, Evesham, Worcestershire, WR11 4QH
Booking Dates
Thursday 28 February, 2019 19:30 £5.00 (Under 18s) £17.00 (Full Price)
Booking Info: Venue - Evesham Arts Centre
Further Information
Book Now