Worcestershire Youth Orchestra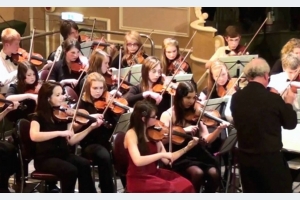 Worcestershire Youth Orchestra
The Worcestershire Youth Orchestra is made up of the county's premier young players. They represent Worcestershire nationally and internationally at competitions, festivals and tours.
This afternoon concert is sponsored by The Rotary Club of Evesham
Rotary is a volunteer organisation of men and women united worldwide to provide humanitarian service and help build goodwill and peace. More than 1.2 million men and women in over 200 countries and geographical areas belong to over 34,000 Rotary Clubs. Rotary builds international understanding through scholarships, exchange programmes and humanitarian grants.
If you feel you would like to make a difference in your local community of Evesham, such as supporting local charities and helping with the Tree of Light; or have an impact internationally, then contact us, we would love to hear from you.
www.therotaryclubofevesham.org.uk
Promoter: EDMC - Venue: Evesham Arts Centre, Victoria Avenue, Evesham, Worcestershire, WR11 4QH
Booking Dates
Saturday 06 April, 2019 16:00 £7.50 (Full Price) £3.00 (Under 18s)
Booking Info: Venue - Evesham Arts Centre (Please note 4.00pm start)
Book Now